Welcome! We would love for you to join the women of LSCC as we as we live life together.
WOMEN'S MINISTRY MISSION:
We desire to encourage, teach, and train what is good to all women
so that the word of God will not be dishonored.
We strive to be women who are zealous for good works in order to bring God all the glory.
ACTIVITIES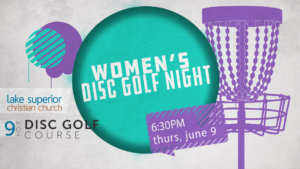 Join the other women of LSCC for a night of disc golf on our course. No experience or equipment necessary! We'll have discs to use and instructors to teach the game.
If you decide to get your own disc to play with, ask for a stable to understable Putter or Midrange at disc retailer. Downwind sports in town as a good selection. If you decide to buy online look at the "Hex" by Axiom, "Buzzz" by Discraft, "Colt" or "Mako3" by Innova Discs. If you have more questions about discs, email walter@lscc.tv.
Sign up to attend HERE!
BIBLE STUDIES
Information about our next Bible study will be posted here as soon as it's available!
Have a question?
Feel free to contact our Women's Ministry Coordinators
260-226-1401
Email@Jen.com
719-239-0303
MindiGreen@gmail.com
Titus 2: 3-5, 11-14
Older women likewise are to be reverent in behavior, not slanderers or slaves to much wine. They are to teach what is good, and so train the young women to love their husbands and children, to be self-controlled, pure, working at home, kind, and submissive to their own husbands, that the word of God may not be reviled… For the grace of God has appeared, bringing salvation for all people, training us to renounce ungodliness and worldly passions, and to live self-controlled, upright, and godly lives in the present age, waiting for our blessed hope, the appearing of the glory of our great God and Savior Jesus Christ, who gave Himself for us to redeem us from all lawlessness and to purify for Himself a people for His own possession who are zealous for good works.